8:15 p.m. ET: NBC News' partial translation of remarks on Libyan radio by Moussa Ibrahim, a spokesman for Moammar Gadhafi:
The masses of volunteers (to defend Gadhafi) are arriving into Tripoli now.
We have arrested a leading team that was aiding the rebels, four of them Qataris and one from United Arab Emirates.
We have arrested 20 militant rebels in the western district of Tripoli. They were confronted by the volunteering youth.
A clash took place in Ein Zarra, where we were able to destroy two full teams of rebels.
A group of our youth were martyred. They are in their 20s. We have killed tens of the gangsters. I want to tell you exact numbers, but the information that was relayed to me indicates that 65 of them were killed this morning.
We are sorry for the Libyan bloodshed. We had hoped that this fighting takes place in Tel Avia or Gaza and not in Libya.
We are sorry that people are dying in the streets of Tripoli.
This battle is a treason by the rebels but an honor for our military forces. We are fighting the crusaders with their allies. I'd like to salute the martys who refused to surrender and chose martyrdom.
The vital centers in Tripoli are under our control now, such as the Central Reserve Bank. The central area is all under our control.
Our military forces withdrew under heavy bombardament by the infidel Apache helicopters. Our forces withdrew also to refuel. The rebels attacked the Algerian embassy End set it on fire.
We have turned Tripoli into a fire cannon against the colonial powers. We will turn Tripoli into a death trap. No one will enjoy Tripoli; Tripoli will turn into an exploding bomb. We will turn Tripoli into a death trap for the rebels.
The leaders of the transitional council will not enjoy it. The gangs know this. Gadhafi is loved by millions in Libya.

8:09 p.m. ET: Al-Jazeera reports: "Loud explosions were heard when pro-Gaddafi forces have fired several scud missiles from Sirte, the current regime stronghold, at the rebel-held city of Misrata late on Tuesday night, the Misrata military council's media centre said in a statement."

8:02 p.m. ET: Moussa Ibrahim, a spokesman for Moammar Gadhafi, tells Al-Urubah television that rebel leaders will not have peace if they come to Tripoli, according to Reuters. That appears to be a response to ">reports that the National Transitional Council plans to move its headquarters to the capital from Benghazi in the next couple of days.

7:55 p.m. ET: The BBC has more complete translations of remarks by Moussa Ibrahim, a Libyan government spokesman, broadcast on Al-Urubah. According to the BBC, Ibrahim claims that 80 percent of Tripoli is under government control and that 6,500 volunteers had entered the capital "in the past six hours" and spread throughout "all the streets of Tripoli."
The BBC renders Ibrahim's threat of detruction as a promise to turn Libya into a "burning volcano and a fire under the feet of the invaders."
7:43 p.m. ET: More from Al-Urubah, which quotes a government spokesman as saying the government can resist the rebels for months or years. The battle, the spokesman says, will turn Libya into what Reuters translates as "volcanoes, lava and fire."
7:19 p.m. ET: Gadhafi is now reported to have promised to fight to victory or death in the battle against "aggression."
7:13 p.m. ET: Moammar Gadhafi is reported to be speaking on radio now. According to Al-Urubah television, relayed by Reuters, Gadhafi says his retreat from the Bab Al-Aziziya compound was a "tactical move." He goes on to say the compound was leveled to the ground after 64 NATO airstrikes.
7:10 p.m. ET: Reuters reports that Moammar Gadhafi "will address the Libyan people through a local radio station," citing Al-Urubah, which is usually described as a "pro-Gadhafi" television service.

6:30 p.m. ET: Sara Sidner, an international correspondent for CNN who is covering Libya, tweets:
Twitter.com
6:15 p.m. ET: Defense Secretary Leon Panetta says the situation in Libya "remains very fluid" but that "the opposition forces have obviously made significant gains."
In a speech Tuesday at the Naval Postgraduate School in Monterey, Calif., Panetta said the developments in Tripoli could presage an end to the NATO air campaign.
"Hopefully, that is a mission that is beginning to draw to a close," he said, according to The Associated Press:
Panetta praised the NATO mission to protect Libyan civilians for having contributed to the rebels' progress.

"We have protected civilians, we've established a no fly zone and we have worked with our NATO partners in going after a kind of important support and assistance that was, I think, part of the key in helping opposition forces there ultimately be able to succeed," he said.

U.S. defense officials said that NATO forces will continue to strike targets of opportunity, if given the needed information and intelligence that regime forces are present. But they are exercising caution to prevent any civilian casualties.

5:10 p.m. ET: The No. 2 official on the National Transition Council confirms that Qatar will host a meeting Wednesday to organize $2.4 billion in aid for Libya.
Mahmoud Jibril, the council's senior foreign affairs representative, said at a news conference in Doha that the country's transition "begins immediately," Al-Jazeera reports:
He said the meeting of donor nations on Wednesday would be "to make provisions and arrange for $2.4 billion for the NTC in order to pay salaries of Libyans before Eid and to arrange for all the medical treatment and the artificial limbs which are required for the injured."

Eid el-Fitr is the holiday that marks the end of the Muslim fasting month of Ramadan, which comes to a close on or around August 30.

Speaking to the young people of Libya "who brought us our dignity back," he said: "I would like to confirm to them that this is your revolution and you will have to continue the march to finish the revolution ... to participate in the creation and establishment of the Libyan state in order to move Libya forward."
4:41 p.m. ET UPDATE: A military spokesman for the rebels, Ahmed Bani, puts a timetable on the National Transition Council's plans to move its headquarters to Tripoli. The move will happen within two days, he told Al Jazeera.
4:07 p.m. ET: The rebel movement appears to be fracturing over what to do with Moammar Gadhafi if he is captured.
Ibrahim Dabbashi, Libya's deputy U.N. ambassador and a key figure in the opposition movement, told Reuters the rebels are in talks with the International Criminal Court over indictments for Gadhafi, his son Saif al-Islam and his intelligence chief, Abdulla Al-Senussi, but would like to "try them as war criminals in Libya."
But Hany Hassan Soufrakis, a spokesman for the rebels, told the BBC that it would be better for any trials to be held in The Hague because the Libyan judiciary probably isn't equipped to try Gadhafi.
A spokesman for the the ICC told the Voice of America that "Libyan authorities have the obligation" to turn the Gadhafis and al-Senussi over for trial in The Hague.
The ICC has charged Gadhafi with crimes against humanity he allegedly committed specifically since February, when the rebellion began, but many U.S. politicians want him tried, instead, for Libya's involvement in the 1988 bombing of Pan Am Flight 103 over Lockerbie, Scotland, which killed 270 people.
Sen. Frank Lautenberg, D-N.J., sent a letter Monday urging Secretary of State Hillary Rodham Clinton to pressure the transitional government to support trying Gadhafi for the Lockerbie bombing, instead.
"Justice for the U.S. victims of terrorist attacks committed by Qaddafi and his regime must remain a top priority for our country," Lautenberg said. "Should Qaddafi be arrested and sent to the ICC, he must stand trial for his terrible crimes against our fellow citizens."
2:45 p.m. ET: The National Transition Council plans to move to Tripoli, "seeking to prevent a power vacuum and establish themselves as the sovereign government of a new Libya," the Christian Science Monitor reports.
"The NTC is sending government ministers to Tripoli today to begin coordinating executive control as well as security, and aims to implement its transition plan as soon as possiblem," the paper reports, quoting council officials:
"We have to be there at the moment of liberation," says Joma Sayehi Eltayef, who has been coordinating preparations for securing Tripoli from the eastern city of Benghazi. "We can't leave any opportunities for remnants of the regime, or a vacuum. We need a strong grip so that we don't have chaos. As soon as the regime falls, we have an alternative ready to take over."

The move poses a major test of the leadership's coordination as it prepares to expand its responsibility from the rebel-controlled east to the entire nation, and make the transition from the battlefield to the task of running a vast, oil-rich country.
2:35 p.m. ET: Reuters quotes a rebel spokesman as saying opposition forces have also taken the western oil port of Ras Lanuf. The spokesman said there was no damage to the oil facilities.
However, the BBC says pro-Gadhafi al-Urubah TV, which it is monitoring, is reporing that "government forces fought the rebels off."
AFP / file
Libyan state television showed Moamar Gadhafi playing chess with Kirsan Ilyumzhinov, head of the World Chess Federation, in Tripoli in June 12.
1:57 p.m. ET: If you believe the head of the World Chess Federation, Moammar Gadhafi is "alive and healthy" and has no plans to leave Libya. The problem: How easy is it to believe Kirsan Ilyumzhinov?
Ilyumzhinov says he spoke to Gadhafi, who is known to be a chess enthesiast, by telephone Tuesday, quoting him as saying, "I am sure that we will be victorious."
"Do not believe the lying reports by Western television companies," Ilyumzhinov quoted him as saying Tuesday.
"I want to express thanks to everyone in the world who feels for the people of Libya. I am sure that we will be victorious," Gaddafi said, according to Ilyumzhinov, who spoke to the Interfax news agency.
Besides running the World Chess Federation, Ilyumzhinov was also president of the Russian republic of Kalmykia until 2010. And he's widely considered to be ... well, "erratic" would be the diplomatic word. For one thing, he believes chess was brought to Earth by aliens, who might destroy the planet unless everyone on it learns the game.
In June, Ilyumzhinov and Gadhafi were photographed together playing a game of chess, which gave Michael Specter of The New Yorker an opportunity to profile Ilyumzhinov:
He has spoken often of chance encounters with aliens, some of whom have been kind enough to invite him onto their space ships. When I visited him in Kalmykia five years ago, he explained why he didn't get so worked up about the notorious actions of a dictator or two. Ilyumzhinov takes the long view. "Tomorrow, aliens will fly down here and say, 'You guys are misbehaving,' and then they will take us away from the earth," he told me. "They'll say, 'Why are you fighting down here? Why are you eating each other?' And they'll just put us in their ships and take us away."
1:30 p.m. ET: The U.S. is seeking to release $1.5 billion in frozen Libyan funds for use as humanitarian aid and critical infrastructure — water, electricity and the like — by the Transitional National Council, says the U.S. ambassador to the United Nations, Susan Rice.
Rice told NBC News' Andrea Mitchell it isn't easy to work through legal tangles to get the money to the rebel leaders, but the hope, she says, is to funnel the funds through the U.N.
1:12 p.m. ET: NBC News' Jim Miklaszewski reports that Libya's stockpile of chemical weapons is believed to be safe for now, but Moammar Gadhafi's separate stockpile of 20,000 powerful anti-aircraft missiles has been looted.
The chemical weapons stockpile has been under 24/7 surveillance by international agencies, Miklaszewski reported from the Pentagon. Watchdogs say there's no evidence that anyone has removed any of them.
But the missiles are another story. An undetermined number of them can't be accounted for, and there are fears they may have been smuggled out of the country.
1:10 p.m. ET: The White House tells NBC News that President Barack Obama isn't expected to make any public statement on what's being described as the fall of Tripoli.
_____
By msnbc.com's Elizabeth Chuck
12:57 p.m. ET: "Gadhafi has become a fugitive in this country," says NBC's Engel.
12:53 p.m. ET: Looting is confined to inside Gadhafi's compound, reports NBC's Engel; the rest of Tripoli is basically untouched.
12:50 p.m. ET: "Many of these buildings are completely destroyed," says NBC's Engel about the numerous structures inside the compound.
12:45 p.m. ET: NBC News is airing a special report on Libya, with Richard Engel reporting from inside Gadhafi's compound. Watch it here:
LIVE VIDEO — The rule of embattled Libyan leader Moammar Gadhafi crumbles as rebels enter Tripoli, the country's capital.
12:38 p.m. ET: "It's over. Gadhafi is finished," a Reuters correspondent heard a man shout in Tripoli.
12:36 p.m. ET: Still no sightings of the Libyan leader as rebel fighters run through his headquarters, firing celebratory shots in the air after hours of heavy clashes.
12:31 p.m. ET: Gadhafi has controlled Libya since staging a coup in September of 1969. On Monday, world leaders shared their reactions as his regime started to crumble. Read them here.
12:29 p.m. ET: A photo of an explosion near Gadhafi's compound Tuesday, via Sergey Ponomarev / AP:
More photos from today here.
12:26 p.m. ET: Libya's U.N. envoy says he expects all of Libya to be liberated in the next 72 hours. The compound is "totally in the hands of the revolutionaries," he says, according to Reuters.
12:23 p.m. ET: "Strategically, this means that Tripoli has fallen," NBC's Richard Engel says from inside the compound.
12:19 p.m. ET: Rebels have taken over the Gadhafi compound completely, reports NBC's Richard Engel. No sign of Gadhafi or his sons yet.
12:15 p.m. ET: France and Britain will continue to give military support to the Libyan rebels until Gadhafi's troops surrender, French President Nicolas Sarkozy's office says.
11:42 a.m. ET: Check out the thick plumes of black smoke hanging over Tripoli after reports of a breach in Gadhafi's compound:
Libyan rebels have breached the western gate of embattled leader Moammar Gadhafi's compound. NBC's Richard Engel reports.
11:37 a.m. ET: AFP and other news agencies say "hundreds" of rebels are in Gadhafi's compound.
11:23 a.m. ET: The Pentagon is calling the situation in Tripoli fluid, but confirms rebels are in control of the majority of Tripoli. The U.S. maintains the belief that Gadhafi has not left Libya.
11:11 a.m. ET: There are reports of rebels firing celebratory shots into the air inside Gadhafi's compound. Reuters says Gadhafi forces defended the compound, but the resistance has now stopped.
11:09 a.m. ET: Rebels have entered Gadhafi's compound, according to Reuters reporters on the ground.
10:55 a.m. ET: Rebel leaders say 80 percent of the Libyan capital is now controlled by forces opposed to Gadhafi, the EU's foreign policy chief Catherine Ashton says.
10:35 a.m. ET: NBC's Richard Engel is doing amazing reporting out of Tripoli, ducking from gunfire while on the air:
NBC's Richard Engel ducks for safety as he reports that Libyan rebels are battling pro-Gadhafi forces in Tripoli.
10:22 a.m. ET: Rebel forces say they have breached the first gate of Gadhafi's compound in Tripoli, reports Al Arabiya TV.
10:21 a.m. ET: A Russian official says he has spoken to Gadhafi by phone, according to Reuters. The official quotes Gadhafi as saying he is in Tripoli and will "fight to the end."
10:15 a.m. ET: More than 30 countries now recognize the rebel National Transitional Council as the legitimate representative of Libya, Reuters reports. As rebel forces closed in on Gadhafi's compound Tuesday, four five countries moved to recognize the NTC as the sole legitimate representative: Iraq, Morocco, Bahrain, Nigeria and Greece. They join the U.S. and major European Union countries.
9:50 a.m. ET: It's still unclear whether Gadhafi's son, Seif al-Islam, escaped from rebel custody or was never captured in the first place. If you're having trouble keeping track of all the members of the family, check out this Gadhafi family tree from the New York Times.
9:40 a.m. ET: Strong images are coming out of Tripoli, this one taken by Sergey Ponomarev via the AP:
Rebel fighters speak to a suspected pro-Gadhafi soldier after he was captured in Tripoli on Aug. 23. Rebels say they control most of Tripoli, but they faced pockets of fierce resistance from regime loyalists firing mortars and anti-aircraft guns.
See more images in our msnbc.com slideshow.
9:30 a.m. ET: The Guardian offers this cartoon by Bob Moran on the hunt for Gadhafi: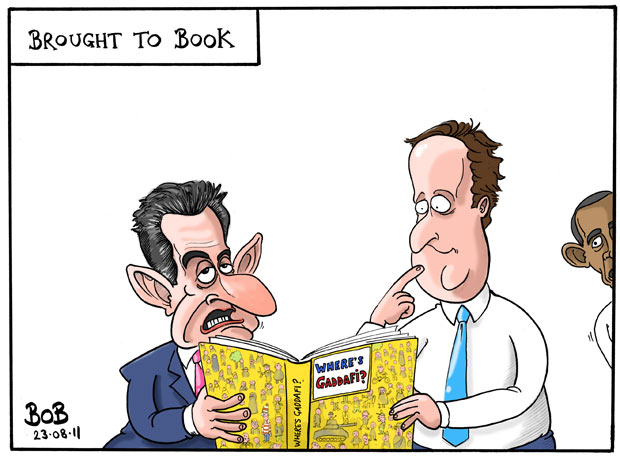 9:25 a.m. ET: Libya could return to oil production within 3 to 6 months, Libya's former central bank governor, Farhat Omar Bin Guidara, says in an interview with Al-Arabiya TV. On Monday, the country's former top oil official said it will take as long as a year and a half to reach the pre-war level of oil output.

9:15 a.m. ET: Heavy fighting continues to rage near Gadhafi's compound in Tripoli, a Reuters correspondent said Tuesday. Columns of grey smoke billowed over the area; gunfire and explosions could be heard, he said. Foreign journalists in the Rixos hotel say they have been hearing heavy artillery fire since mid-morning. A Reuters reporter there says she was told by Libyans at the hotel that it was surrounded by thousands of soldiers. BBC can help you visualize it all on this fantastic map of Tripoli.
9:05 a.m. ET: Watch live video from Tripoli here:
LIVE VIDEO — The rule of embattled Libyan leader Moammar Gadhafi crumbles as rebels enter Tripoli, the country's capital.
8:55 a.m. ET: Here is what we know about Libya, a day after rebels claimed they had captured the son and heir apparent of Libyan leader Moammar Gadhafi:
In a bizarre reappearance, Seif al-Islam, Gadhafi's son, showed up Tuesday at a Tripoli hotel where foreign journalists are staying. "This is our people, and we live here, and we die here," he defiantly told AP Television News. When asked if his father was safe and well in Libya's capital Tripoli, he said, "Of course." The rebel leadership seemed stunned Seif al-Islam was free.
Dario Lopez-mills / AP
Moammar Gadhafi's son Seif al-Islam makes the victory sign as he appears at the Rixos hotel in Tripoli, Libya on Tuesday.
Another Gadhafi son, Mohammed, escaped the house arrest that rebels had placed him in on Monday, rebel leadership spokesman Sadeq al-Kabir told reporters.
Gadhafi, 69, has not been seen in public for several weeks. This weekend, after rebels arrived in the capital, world leaders urged him to surrender his 42-year-old regime to prevent more bloodshed.
Rebels say they control most of Tripoli, but are still fighting pockets of resistance from regime loyalists firing mortars and anti-aircraft guns. Explosions were heard near Gadhafi's compound in the city of 2 million people on Tuesday, Al Arabiya TV reported. The complex, called the Bab al-Aziziya compound, has been the focal point of fighting in Tripoli; rebel leaders do not expect it to fall easily.
In Benghazi, which has served as the de facto rebel capital hundreds of miles east of Tripoli, the head of the rebel National Transitional Council said he has no idea where Gadhafi is. "The real moment of victory is when Gadhafi is captured," Mustafa Abdel-Jalil said on Monday. A White House official said the U.S. had no indication that Gadhafi had left Libya. NATO also said it didn't know where the leader was, but a spokesman said Tuesday, "If you know, let me know. I don't have a clue, and I'm not sure actually that it really does matter." The military alliance does not view him as a target, said military spokesman Colonel Roland Lavoie in a briefing from his base in Naples.